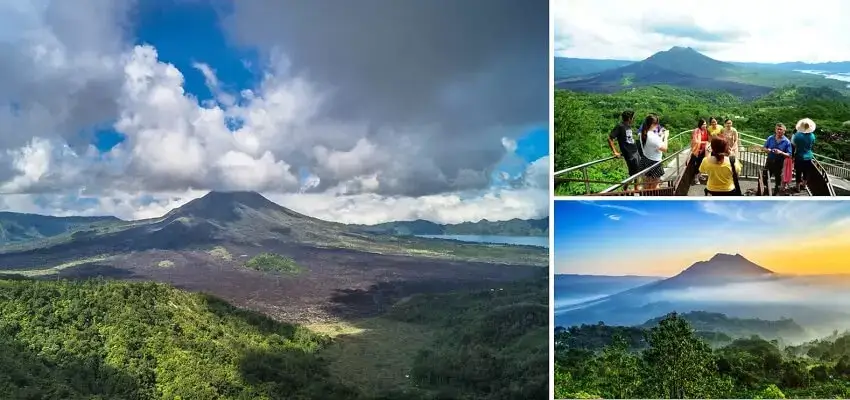 Kintamani Village Bali is one of the exciting Bali Tourist Attractions as the most famous interesting place to visit by local and foreign tourists. This tourist destination is located on a high landscape and has cool temperatures at midday and cold at night time. Kintamani Bali offers you a beautiful panoramic of Mount and Lake Batur.
Kintamani Village Bali is one of the villages in Bali to offers a wonderful panoramic view of Lake Batur, Mount Batur, and Batur Caldera while enjoying your lunch from Penelokan.
Kintamani is surrounded by the captivating nature and there are six ancient villages around the cauldron of Batur Lake which is often conceived by Bali Age Village. The local people from these villages own unique cultures, houses as well as lifestyles. Kintamani Area is consisted of some Villages such as Kedisan Village, Buahan, Abang, Trunyan, Songan, South Batur, Middle Batur, North Batur, Sukawana and Kintamani Village .
Kintamani is a beautiful place to see in the daytime around 10:00 am until 3:00 pm. We can see the entire area during the clear weather. Generally, all tourists who visit Kintamani will arrive during the daytime when they can enjoy the panorama or enjoy lunch in the local restaurant with a lake view. Most restaurants at Kintamani generally own very beautiful views where tourists merge into their lunch in this restaurant and meanwhile enjoy the panorama.
Kintamani Bali Location
It is located in the Kintamani sub-district, Bangli Regency as well as about 50 km from Denpasar Town. Or, it can take 2 hours by car. All roads are generally in good condition to access this place. The fog will descend and blanket the entire area of Kintamani Batur Volcano with cold temperatures in particular in the late afternoon until the whole night. The most amazing panorama at this place can be seen in the morning time. It is especially during sunrise emerges on the surface of earth precisely on the mount Batur.
Kintamani Village Bali and Batur Caldera
Kintamani area with its magnificent view of the Batur caldera has been recorded on the king's charters as follows:
Inscription dated 911 AD, mentions the king's envoys to pray at Trunyan village, the local people were asked to serve the envoys to prepare the meals and facilities during this religious trip. The people requested to his majesty be exempted from certain taxes instead of the services rendered to the philgramage.
Inscription dated 911 AD, the regulation for village members between Abang village and Trunyan village was issued by the king to protect their interests.
Three inscriptions found at Kintamani dated 967 AD mentions lodging ( pesangrahan ) at Air Mih, licensed by the king Tabanendra Dharmadewa. Here is mentioned also the influx or might be a traffic of priests ( bhiksu ) that came to that area and wanted to settle. It was regulated that the newcomers must not exceed 10 families
Just around 1 km north of Kintamani have found various stone sculptures carved in 1011 AD by master sculptor " Mpu Bga", dedicated to the king and ancestor's spirits
It is proof that the Kintamani area is the oldest area to have been recorded in the history of Bali. It was probably due to its very inspiring natural scenery and magical view. One of the famous Indonesian novelists Sutan Takdir Alisyahbana also built his lodging on the foot of Mount Batur, where he produced many litteraire creations in the form of romance or novels.
History of Kintamani :
There are several sources that mention the history of Batur is Lontar Kesmu god, Lontar USANA Bali and Lontar King Purana Batur. Pura Batur mentioned that already existed since the time of Kuturan Professor X is about a century until the beginning of the XI century. Because of the vast acreage, and pelinggih number is estimated that pelinggih Pura Batur is Penyiwi kings who ruled in Bali, as well as a heaven Jagat. Pura Batur at the Goddess Danu is mentioned in Balinese USANA Lontar translated as follows:
Is the story, happened in the month of Marga Sari (month-to-V) when Krishna Force (Tilem) telling Bethara Pasupati in India are transferring summit of Mount Meru is divided into two, held by the left and right hand and then brought to Bali is used as the Son he is sthana Bethara Putrajaya (Hyang Supreme Deity) and peaks that brought his left hand into Mount Batur as sthana Goddess Danuh, both that as ulunya island of Bali. Both mountains are a symbol and Pradana Purusa elements of Sang Hyang Widhi. Pura Batur is a Hindu cult place throughout Central Bali, Bali in particular, North and East plead in the field of safety rice field. Hence, in the revered saint who fell the Purnamaning to X (kedasa) all the people, especially in all kelian subak, sedahan-sedahan come to Pura Batur to offer "Suwinih". So if there are disaster pests.
By visiting Kintamani Village Bali you will get a great experince during your trips to Bali Island.
Kintamani Full Day Tour Packages
Bali ATV Ride & Kintamani Tour
Bali Rafting & Kintamani Tour