Ubud Tour Is One Of The Exciting Private Day Tour To Explore The Most Popular Tourist Attractions In Ubud Bali; Temple, Waterfall, and Monkey Forest
Ubud Tour Overview
Ubud Full Day Tour Packages is one of the famous Bali Full Day Tour Packages to visit Ubud attractions and the most interesting places in Ubud Village one of the centers of art and culture on Bali island. Ubud is one of the most famous tourist destinations on Bali Island. Ubud is the center of art and culture, Ubud also offers beautiful panoramic, and nature is a perfect tourist destination for those who love Art and Culture history.
Ubud Full Day Tour Packages will visit places of interest such as:
Ubud Batuan Temple is Balinese Hindu temples at Batuan Village
Ubud Tegenungan Waterfall is a waterfall located in Kemenuh and is one of the waterfalls not situated in the mountain
Ubud Tegalalang Rice Terrace is a famous tourist attraction for beautiful rice terraces and small valley
Ubud Monkey Forest is a small rain forest dwelt by some group of monkeys and other tropical animals
A chance to see during the trip: Tohpati Village (Batik Factory), Celuk Village (Silver Art), Bali Luwak Coffee (Cat Poo Cino)
Bali Ubud Tour Price
US$50/person
US$30/person (Children 4 – 12 years old)
today's best offers
The tour package is READY TO ORDER!
Reserve now and pay later at the location
Free cancellation up to 48 hours in advance
Secure your spot while staying flexible
The price is VALID ONLY THIS WEEK!
Ubud Tour Price Inclusive Of:
Entrance fees at all tourist destinations as mentioned
Free sarong to enter the temple
Private air-conditioned vehicles include petrol
Professional English Speaking Driver Cum Guide
Parking Fee/Toll Fee
Mineral water during this trip
Lunch at a local restaurant
Ubud Tour Price Not Inclusive Of:
Other personal expenses
Tips and gratuities (optional)
Things You Need To Know:
Your exact pick-up time will be confirmed in your voucher email
This activity is subject to favorable weather conditions
If the trip is canceled due to poor weather, you will be given the option of visiting another site at no additional charge
Please pay attention to the monkeys in Ubud Monkey Forest area. It is important to remove shiny materials (earrings, necklaces, hair clips, glasses, etc) which may attract their curiosity
You should wear clothing that covers your shoulders and knees as a sign of respect when visiting the Temple.
Should you need to bring; Hat, sunglasses, sunscreen, towel, change clothes, and a camera
Ubud Full Day Tour Packages Itinerary
08.30 – Pick up at the hotel
19.30 – Visit Batuan Temple
10.30 – Visit Ubud Monkey Forest
12.00 – Visit Tegalalang Rice Terrace
13.00 – Enjoy Lunch at a local restaurant
15.00 – Visit Tegenungan Waterfall
16.00 – Back to the hotel
Route Map Ubud Full Day Tour
Below is a short description of the Bali Interesting Places that you will visit during the Ubud Full Day Tour
Tegenungan Waterfall
Tegenungan Waterfall is one of the best waterfalls in Ubud village. This waterfall offers stunning scenery with clean water and a fresh atmosphere. If you need to see this waterfall, various steps go down from the stepping zone. Tegenungan Waterfall is one of the few waterfalls in Bali located in the highlands or mountains. Waterfalls are sharp drops along the course… Read More > Tegenungan Waterfall
Batuan Temple
Batuan Temple is a local Balinese Hindu temple looked after by the resident of the Batuan countryside. We will visit this temple before the next stop at Kintamani Tour. The temple is designed full of Balinese ornaments and the roof temple building is made from the fiber of a chromatic black palm tree. Batuan has been a village of artists and craftsmen, old legends, and mysterious tales… Read More > Batuan Temple Bali
Ubud Monkey Forest
Ubud Monkey Forest is a small rainforest dwelt by some groups of monkeys and other tropical animals. The monkey forest is located in the heart of Ubud Village. Monkey Forests in the Balinese language, Wanara Wana, are spread out on Bali island. Ubud Monkey Forest itself owns a very important function in the continuity of the monkey habitat in Bali. Meanwhile, the local community has an important role to keep… Read More > Sacred Ubud Monkey Forest Sanctuary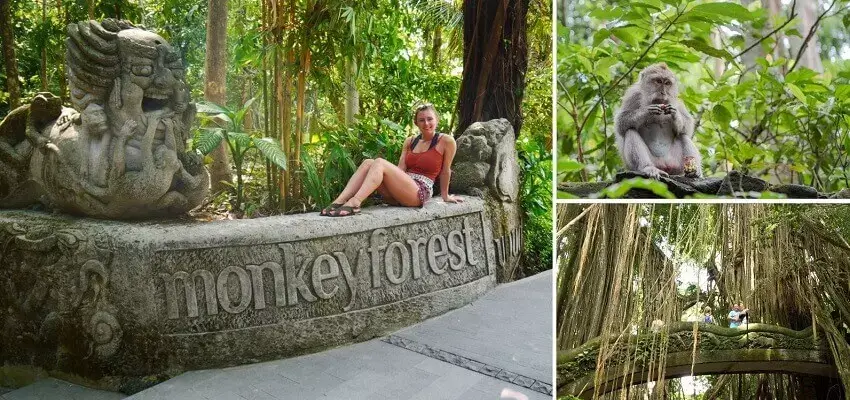 Tegalaalang Rice Terrace
Tegalalang Rice Terrace is one of the famous tourist objects in Bali situated in Tegalalang Village north of Ubud Bali. This place is featured by the amazing rice terrace set by the cliff. Tegalalang Village is located on a highland approximately 600 m above sea level covered by fresh temperature. Tegalalang Village is getting famous due to the beautiful rice terrace as magnificent for tourists. Read More > Tegalalang Rice Terrace
Terms & Conditions Of Ubud Tour – Bali Full Day Tour
Minimum booking: 2 participants
Single traveler: additional charge of 50% will apply
Children: under ten years old 50% Off and Infant under three years free of charge
Flexible Tour: Please feel free to contact us if you have any own itinerary
Private tour: means there is no other participant, just only you and your companion.
Reasonable and fair prices: that means no hidden fees
Payment method: Cash On Arrival
Payment in Indonesian Rupiah: based on the latest exchange rates
Cancellation Policy: Full refunds will be issued for cancellations made at least 24 hours before the activity.
How To Make A Reservation?
Step 1: Check Availability to our reservation staff through WhatsApp or Email
Step 2: Submit Booking, After we reconfirm the tour availability, then submit your booking form
Step 3: Booking Confirmed, After receiving your booking request, Our customer service will send you the voucher via WhatsApp or Email.
Step 4: Ready To Travel, You can show the e-voucher to our driver upon pick-up time and then complete the payment
Use this booking form below if you would like to submit the reservation through WhatsApp or Email:
Full Name:
Nationality:
Total Person:
Phone Number:
Hotel In Bali:
Room Number (optional):
Tour/Service Name:
Date Of Tour:
Notice: our email may go to your spam mailbox, please check your spam mailbox if you don't receive our response immediately.
Ubud Full Day Tour Packages is one of the best choices to explore the hidden of Bali. Enjoy Ubud Full Day Tour Packages with the professional and friendly Bali tour driver service during your holiday by performing excellent services to make Ubud Village Sightseeing Tour a memorable one for you and your family.