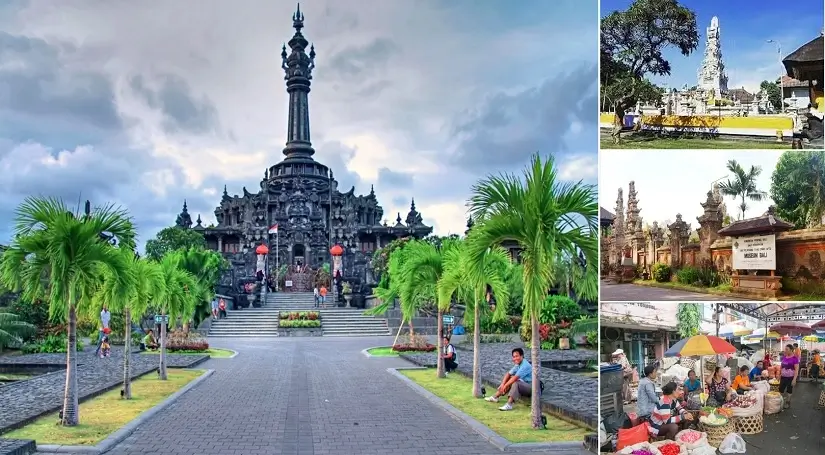 Bali Denpasar City Tour is a Bali Half Day Tour Package to Visit Denpasar town with its unique variety of local societal life combined with traditional Balinese cultural activities.
Denpasar City Tour Overview
Denpasar City Tour is one of the exciting Bali Half Day Tour Packages to visit some of the interesting places around Denpasar Town. This tour is suitable for you who want to enjoy your trips in a short time. The trip will visit Bajra Sandhi Monument, Badung Traditional Market, Jagatnatha Temple, and Bali Museum.
Denpasar City Tour is very interesting in that you can see closely the real Balinese urban with their social life and traditional cultures. Places of interest that you will visit during the Denpasar City Tour are Bajra Sandhi Monument a monument located in the heart of town and build to symbolize the Balinese people's struggle. The trips will continue to visit Badung Traditional Market a traditional market in the center of town, the tour will continue to visit Jagatnatha Temple a Hindu temple in the center of the city, the last visit during the Denpasar City tour is to visit Bali Museum is the museum for taking care and preserve for Bali culture.
Denpasar City Tour Price
IDR 825,000/person
IDR 675,000/person (Children 4 – 10 years old)
The Payment and Cancellation Policy
The Payment Method
– Cash On Arrival: Cash payments will be collected by the driver upon pick-up
– Bank Transfer Payment: We accept payments via bank transfer
– Online Payment: We accept online payments via PayPal, and an additional fee of 4.9% of the total transaction will be charged.
Cancellation Policy
– If you cancel the tour 48 hours before the departure date, Free cancellation fee.
– If you cancel within 47 hours or up to 24 hours, you will be charged 50% of the price.
– If you cancel for less than 24 hours or no-show, you will be charged 100% of the price.
Denpasar City Tour Price Inclusive Of:
Private hotel transfer with the air-conditioning vehicle
Professional English-speaking driver
Entrance fees at all tourist destinations as mentioned
Lunch Indonesian food at a local restaurant
Toll fees/Parking fee
Bottled water
Bali Denpasar Tour Price Not Inclusive Of:
Meals
Other personal expenses
Tips and gratuities (optional)
Things You Need To Know Before You Make A Reservation:
Your exact pick-up time will be confirmed in your voucher email
Minimum Order: Our tour requires a minimum of 2 participants to book.
Transportation: Free hotel return transfers in the covered areas: Uluwatu, Ubud Canggu, Kuta, Kerobokan, Legian, Seminyak, Jimbaran, Nusa Dua, and Sanur areas.
Fair Price: Our prices are reasonable and fair, and we don't have any hidden fees. You can be confident that the price you see is the final price you will pay for your tour or transfer.
Flexible Tour: If you have your itinerary, we offer flexible tours and are happy to work with you to create a customized experience. Please contact us to discuss your options.
Private Tour: For our private hotel transfer service, you and your companion will be the only passengers in our vehicle.
Should you bring: a hat, sunglasses, sunscreen, sandals, and a change of clothes.
Denpasar City Tour Itinerary
08.00 – Pick up at the hotel
09.00 – Visit Bajra Shandi Monument
10.00 – Visit Badung Traditional Market
11.00 – Visit Jagatnatha Temple
11.30 – Visit Bali Museum
12.30 – Back to the hotel
Route Map Of Bali City Tour
Below is a short description of the Bali Interesting Places that you will visit during the Half Day Denpasar City Tour
Bajra Sandhi Monument is one of the most popular Bali Places of Interest and the building process was also a kind of a struggle, with the process starting in 1981 but stuck for several years. The monument is located in Niti Mandala, Renon, Denpasar, an area where most of the government offices are located.
Badung Traditional Market is one of the most popular Bali Places of Interest as a center of the city's economy and the largest market in Denpasar City. It is located on Gajah Mada Street, the main road as the center of shops in Bali's province before it develop as today. opened within 24 hours with several selling activities.
Jagatnatha Temple Denpasar Bali
Jagatnatha Temple is one of the most popular Bali Places of Interest built in 1953 and is dedicated to the supreme god, Sanghyang Widi Wasa, the supreme of divine gatherings. The name Jagatnatha derives its origin from the Sanskrit word Jagat meaning world. Jagatnatha Temple is a beautiful Hindu temple strategically located in the…
Bali Museum is one of the most famous Bali Places of Interest strategically located in Jalan Major Wisnu in heart of Denpasar City. On the north side of it, there is the glorious temple of Jagatnatha, meanwhile, in front of it (west side) there is the famous Puputan Badung (Badung Courtyard) and the four-face statue (Catur Muka Statue).
How do I make a reservation?
Check Availability with our reservation staff through WhatsApp or Email
Submit Booking, After we confirm the tour's availability, submit your booking form
Booking Confirmed, After receiving your booking request, Our customer service will send you the voucher via WhatsApp or Email.
Ready To Travel, You can show the e-voucher to our driver upon pick-up time and then complete the payment
Tour Reservation Form
Please Fill out The Reservation Form Below To Submit Your Booking Request Our Reservations Team Will Follow Up On Your Request As Soon As Possible.
Enjoy the Half Day Denpasar City Tour with the professional and friendly Bali tour driver service during your holiday by performing excellent services to make Denpasar City Sightseeing Tours memorable for you and your family.